If you've been intending to go buy swag from the Balloon Juice store (link here, or click the Tunch icon to the right), now would be a great time to do it. There is a month-end, tiered bonus based on total sales that can really add up once we hit a certain level. Charlie's Angels will be receiving their first check in a few weeks. From store launch on Feb. 13 through the 28, over $800 was raised. That money will be used to rescue animals like this sweet German Shepherd: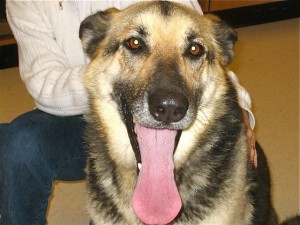 Brook was wandering stray with wounds on her paws, having been hit and rolled by a car. Animal Control reached her owner who told them to put her down since he could not afford the vet bills. They talked him into allowing Charlie's Angels to pull her from the kill shelter. Evelyn Bridges took her to the vet and after x-rays, vaccinations and an overnight stay, the bills totaled $246. Brook is hoping to join a family with a male Shepherd in need of a nice lady friend.
This week alone, Charlie's Angels has paid $240 to have four dogs spay/neutered and heartworm tested (that's a typical week); $200 for kenneling due to lack of foster homes (at a greatly discounted price); and $315 in vaccinations, also offered at a large discount. Since the first of January, Charlie's Angels has pulled 111 dogs, 12 cats and two bunnies from the Transylvania County Shelter. You can see how poor and inadequate the conditions are in the lower photo.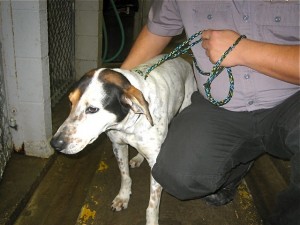 All Balloon Juice Cafe Press profits go to the rescuing of shelter animals. Every dollar helps!
In other news- GO MOUNTAINEERS!