There are a lot of great political cartoonists working in America today, but if I had to pick just one to follow, it would be Danziger.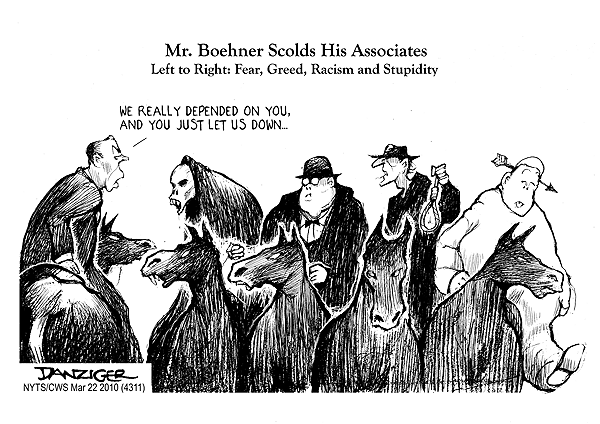 Meanwhile, the POTUS visited an independent bookstore during his Iowa trip:
President Obama spent plenty of time in Iowa as a candidate. On Thursday, he had a little homecoming of sorts, making a surprise visit to the Prairie Lights bookstore, a business he had referred to during a campaign-style rally just an hour earlier. An account by the pool reporter, Carol Lee of Politico, who was traveling with Mr. Obama, offers the details.
__
"Well, this used to be my favorite place," Obama told the owner as she showed him around.
__
He remarked how as president he can't really mosey around bookstores anymore, and said the office comes with the good and bad.
__
Along his way, he picked up "No Apology" by Mitt Romney and "Courage and Consequence" by Karl Rove.
__
"What do you think, guys?" he asked the pool, holding up a hardback copy of each in his hands before setting them back down…
__
A few minutes later POTUS stepped up to the cash register with two books in his hands: "Journey to the River Sea" by Eva Ibbotson and "The Secret of Zoom" by Lynne Jonell for his daughters.
__
Obama pulled out five $20 bills to pay for the two books. Your pooler couldn't hear the exact price but the two books didn't cost that much.
__
Obama also bought a book for Gibbs, who was holding a large Star Wars pop-up book for his six-year-old son, Ethan…
Click on the link, because the photo of Obama is really good. Maybe I'm just a mean cynic, but if his handlers had ever found it necessary for Dubya to be seen in a bookstore, I suspect they'd have pre-swept the place to clean out any examples of doubleplus-ungood wrongthink from the opposition.