For a couple days before moving, I sprayed the new furniture with SCRAM pet repellent. An entire bottle's worth, to be exact. The logic being there is plenty of furniture for them to sit on, and Lily is always in my lap anyway, and Tunch has his new window throne, so I would try to keep them off the new stuff as long as possible. So what kind of results did we get from the SCRAM pet repellent spray? Complete and total fail: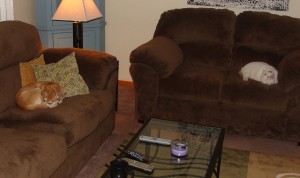 I had completely forgotten how much work moving is. Just getting everything situated takes forever.
BTW- My apologies to everyone who has emailed me in the past couple of weeks who has not received a reply.