I've made a conscious effort the last few days to not watch any cable news. In fact, I've gone from having the tv on a cable news channel all day to basically watching an episode of Chuck and pretty much nothing else.
We'll see how long I can keep this up, but my head feels clearer. I don't get MSNBC anymore, and that was my main cable drug (I SIMPLY CAN NOT QUIT YOU, CHRIS MATTHEWS, IN ALL YOUR APPALLING GLORY), and I'm too busy/lazy to learn the new channels. We'll see.
Plus, there is just so much work to do with the packing and the cleaning and the what not. That having been said, I will find the right channel for Southland at ten.
*** Update ***
I'm loathe to post this because I am sure Max and others will not approve of the color schemes (I like green and earth tones, damnit), but I washed my super soft beat up old duvet cover and then put it on my favorite down comforter after airing it outside and just threw it on my bed to deal with later, and it looks like someone found it while I was sitting here kibbitzing with you people: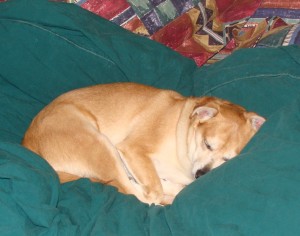 She's no dummy!