Been a while since we had a nice rescue story, so I dug one out of the email vault: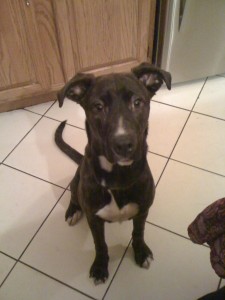 On Sunday Brad walked by that pet place on 81st and Amsterdam and asked them if they had any dogs (there were lots of cats up for adoption). Doug, the dog guy, said that he would have one in a few minutes when she came back from her walk. Brad called us and said come and see. So we did. They told us she answers to Bella. She was rescued from a kill shelter 9 days or something before and she'd just been spayed.

I thought Bella was cute and sweet but Brad wasn't quite convinced and Rosie [our 8-y.o. daughter] was just a little shy with her (Bella is young, 8 months, and still in that puppy chewing on the hand stage and she is about 35 pounds of puppy muscle).

We thought about it and then went to visit another dog rescue place on Broadway (they had small, older dogs). Then we talked about it and went back. We took Bella to Riverside Park with Shelly, a woman from the rescue organization. Bella did very well, no dog conflicts, no barking like crazy at squirrels or birds, etc. A larger aggressive dog approached and she turned around, so that's a good sign.

As luck would have it, Rosie was walking her when Bella ran up to a little white dog and started to play a little. I was jumping in the middle since we didn't really know how Bella would do with dogs yet, especially little dogs, and I said, "Sorry!" without even looking. The other dog's owner said, "it's okay," and we went our separate ways. Then Shelly said, "Wasn't that Gloria Steinem?" I looked back and sure enough, it was her (and she looked really good for being about 75 years old!)

Of course we thought about Bella Abzug! A good Upper West Side connection for sure, so I'm liking the name more and more (aside from the fact that it's quite beautiful!)

By the time we got back, Doug was asking us to foster Bella for the week, with his normal dog kennel place in Brooklyn full. Bella seems fairly civilized, although she did pee in the house a few times. No poop though. Life with a little one. She's ours!
I'm off to rot my mind in front of the television. No cable news, though!