It was up in the 70's here today- got a bunch of work done, got the car washed, some more stuff unpacked, a couple loads of laundry finished, and am now sipping on a mojito.
I'm sunburnt as hell, too.
BTW- Got up and took Lily for a walk at like 6:30, then she "helped" me clean around the house for an hour or so, and when I took my shower, I guess she just decided it was time to go back to bed: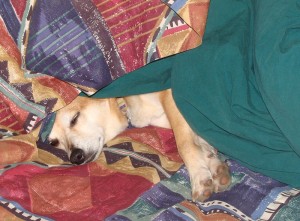 I can't tell you how many times I have almost sat on her sitting down to put my shoes on, but she just loves to bury herself underneath the pillows and comforter.