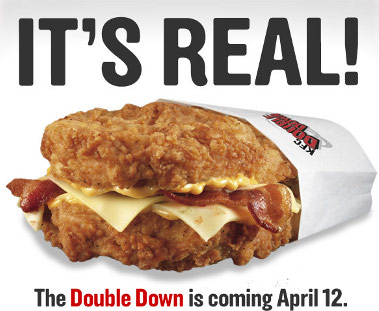 This is just what we needed:
Last August, we wrote about the "Double Down," a mysteriously tempting (and potentialy lethal) new food item being tested by KFC. For those coming late to the story, it's bacon and cheese sandwiched between two pieces of fried chicken. And now, many months later, I'll finally be able to get my hands on one.

KFC announced the decision to go live with the Double Down yesterday, but we weren't sure they weren't playing a April Fools gag. But no, they truly are going nationwide with the delicacy on April 12.
This is excellent news for… cardiologists.