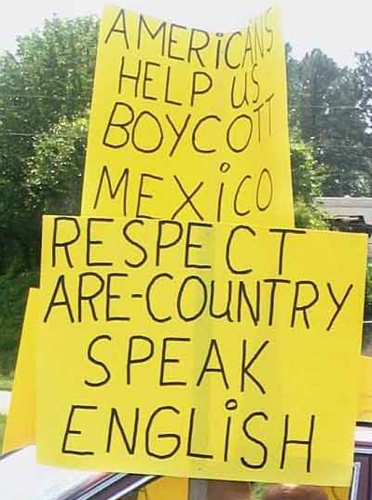 I've been working on my totebagger cred by listening to Fresh Air podcasts, and a recent one on the Southern Poverty Law Center's study of hate groups was pretty interesting:
Potok points to race as one of the reasons "anti-immigrant vigilante groups [have] soared by nearly 80 percent" in the past year. He also notes a "dramatic resurgence in the Patriot movement and its paramilitary wing" in the past year — jumping 244 percent in 2009. Potok says that these groups' messages are increasingly moving into the mainstream.

"I think it's very clear that you see ideas coming out of all kinds of sectors of the radical right, from the immigrant radical right, from the so-called Patriot groups, the militias and so on — and you see it spreading right across the landscape at some of these Tea Party events," he says. "I think it's worth saying that much of this is aided and abetted by ostensibly mainstream politicians and media members."
A lot of the "patriot group" rhetoric is anti-semitic and neo-nazi. So, we have one group of Republican thinkers, the neo-cons, labeling anyone who doesn't agree with Bibi Netanyahu "anti-semitic", while another group, the teabaggers, is inspired by a militia movement that denies the Holocaust. Who says the Republican party isn't a big tent?
(Photo by flickr user Pargon, used under CC license)