The UPS truck dropped off these beautiful pictures today: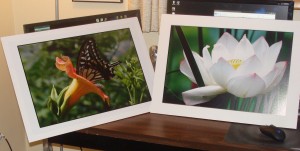 Those were taken by one of you- I'll let the offending party speak for herself in the comments. I can't wait to get them framed and hung.
At any rate, it has been a while since we had one of these threads, so I thought this would be a good time to have one. If you are your loved one are an artist and sell your wares or just share your craft, drop a comment with a link to your website or your store. You all would be really surprised by how creative so many of you are.
Here are some other things crafted by you commenters. Two pictures hanging in my living room that were taken by commenter Renato (at an angle because I am a shitty photographer and the flash kep showing up in the glass):

And LauraW made this frame for the Blog Stars Tunch and Lily, and it hangs in the guest bathroom right off the living room: