Mom stopped by with Ginny and Guesly, and let them off the leash. They cornered Tunch in the bedroom with the door shut, and I opened it to make sure he was alright, and the brats burst through the door. Tunch jumped on the bed, climbed the drapes til he hit the ceiling, jumped back down onto the bed and OVER the two dogs, hauled ass down the hallway onto the cedar chest, knocked over his food bowl because he slid, then motored. I'm sure it was quite traumatic for Tunch, but an evil side of me thought it was pretty hysterical.
After things got calmed down, we let the dogs near him one at a time to see if things would change: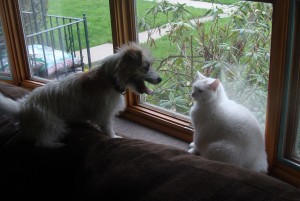 I'm thinking Tunch deserves tuna for dinner (although he is sometimes fussy about it- he only likes the greasy stuff served in oil, it seems).