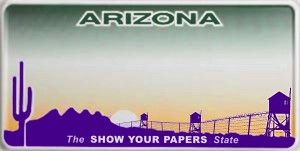 First, a really good piece by Steve Chapman in Reason about the AZ law and the rhetorical games being played:
After signing the new law requiring police to check out people who may be illegal immigrants, Arizona Gov. Jan Brewer was asked how the cops are supposed to know when someone should be screened. "I don't know," she replied. "I do not know what an illegal immigrant looks like."

No kidding. But she has a lot of company in her ignorance. When I called University of Arizona law professor Marc Miller and told him I wasn't sure what some of the law's provisions mean, he replied, "Neither is anyone else on the planet." We will find out what it means after it takes effect, not before.

The law says cops must inquire anytime "reasonable suspicion exists that the person is an alien who is unlawfully present in the United States." Since most of the state's illegal immigrants are Latinos, the natural impulse of police may be to interrogate every Latino with whom they cross paths.
And then, much to my surprise, some very sensible thoughts from Matt Welch:
The whole only-people-with-reason-to-fear argument, to put it mildly, has not been a historical friend of liberty. Nor is it usually accurate. If you are a legal resident immigrant from Mexico, you have plenty of "reason to complain" about this law, because now it's more likely that you are going to be pulled over by an Arizona cop. And every transaction with a cop, especially if you are viewed as non-normal, is an opportunity for a negative outcome, from detainment to car impoundment (even if you're never charged with a crime!) to something worse.

For those clinging to the fantasy that the law's "may not solely consider race, color or national origin" provision will somehow prevent profiling of Mexican-looking people, three points: 1) Steve Chapman's six likely infractions by every driver is a built-in workaround for that "may not solely." When you have thousands of laws, it's not hard finding one that justifies the profiling. 2) Even in jurisdictions that didn't just pass new laws targeting illegal immigrants, when you lower the bar for "legal contact" you increase the likelihood of targeting minorities. In the police empowerment zone that is New York City, a "stop-and-frisk" policy that has averaged 1,260 legal contacts per day has been enforced thusly: "A disproportionate 84 percent of […] stops involved blacks or Hispanics; only 10 percent involved white people."
Both are well worth a read, and for the first time in a long time, take an actual LIBERTARIAN stance and not that of corporate toady or Republican shill. And trust me, I'm as confused by this turn of events as anyone. I went to Reason to get my blood pressure up and came away saying "I could read a magazine that had stuff like that in it."
Also- go sign the Change.org petition to the right about the Arizona legislation.