Caught Lily in a moment of unguarded bliss as she mauled a chew toy: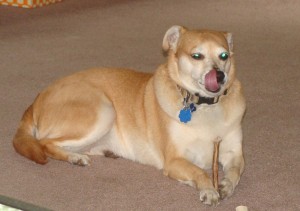 If you click on the picture and embiggen it, you can see she holds the stick as she eats it. I'm really hoping she does not teach Tunch how to hold things, or I might be in serious trouble.
Also, the Balloon Juice store has an entire new line of apparel for Charlie's Angels Animal Rescue. Go check it out. All profits go to Charlie's Angels, of course.
Finally, new Pacific and Treme tonight.