Courtesy of Jake Tapper, who usually is better than this:
Three days after he decried the lack of civility in American politics, President Obama is quoted in a new book about his presidency referring to the Tea Party movement using a derogatory term with sexual connotations.

In Jonathan Alter's "The Promise: President Obama, Year One," President Obama is quoted in an interview saying that the unanimous vote of House Republicans vote against the stimulus bills "set the tenor for the whole year … That helped to create the tea-baggers and empowered that whole wing of the Republican Party to where it now controls the agenda for the Republicans."

Tea Party activists loath the term "tea baggers," which has emerged in liberal media outlets and elsewhere as a method of mocking the activists and their concerns.
Can we please knock this off? Teabaggers named themselves: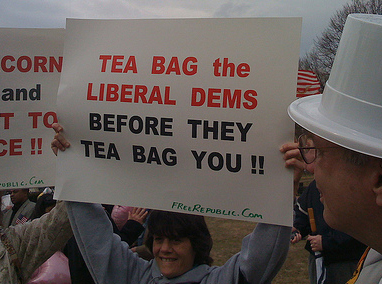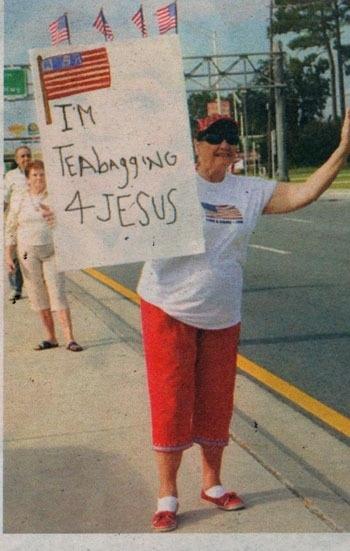 It was only AFTER they figured out that teabagging had derogatory connotation that they accused the LIEBERAL MEDIA of defaming them. And lately, they've even decided they can't even fake the outrage anymore and are embracing the moniker once again in a video called "I'm Proud to be a Teabagger."
Even more offensive is that lost in the attempt to manufacture a gotcha moment (I'm sure this accusation of Obama's incivility will fly up memeorandum and generate lots of traffic, so "Mission Accomplished!" with that), it is lost that what Obama said is absolutely correct and the GOP is the source of a lot of the actual poisonous rhetoric in our current political climate. It WAS the Republican behavior that set the tenor for everything this year. You'd think that observation would be important.