Atrios, the other day, describing this story about the toxic dispersants (symptoms at high doses: headaches, vomiting and reproductive problems) being poured into the gulf by the ton to break up the oil slick: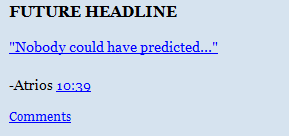 Nick Kristof, today:
The President's Cancer Panel is the Mount Everest of the medical mainstream, so it is astonishing to learn that it is poised to join ranks with the organic food movement and declare: chemicals threaten our bodies.

The cancer panel is releasing a landmark 200-page report on Thursday, warning that our lackadaisical approach to regulation may have far-reaching consequences for our health.

I've read an advance copy of the report, and it's an extraordinary document. It calls on America to rethink the way we confront cancer, including much more rigorous regulation of chemicals.

***

"Only a few hundred of the more than 80,000 chemicals in use in the United States have been tested for safety," the report says. It adds: "Many known or suspected carcinogens are completely unregulated."

Industry may howl. The food industry has already been fighting legislation in the Senate backed by Dianne Feinstein of California that would ban bisphenol-A, commonly found in plastics and better known as BPA, from food and beverage containers.

Studies of BPA have raised alarm bells for decades, and the evidence is still complex and open to debate. That's life: In the real world, regulatory decisions usually must be made with ambiguous and conflicting data. The panel's point is that we should be prudent in such situations, rather than recklessly approving chemicals of uncertain effect.
Our corporate persons are so powerful that when we don't know what something is going to do to us or our bodies, we say fuck it, hope nothing goes wrong, approve it, and then listen to those same interests scream about tort reform twenty years later when half a town has cancer.
This whole country has become nothing more than a slow-motion train wreck.