I've spent some tweaking the last couple of weeks with the bird feeder positioning and the type of seed, and I think I finally have a winning combo.
The last week was all out chaos because I was just putting out sunflower seeds, and every bird in the tri-state area was eating here. You could watch the level of bird seed drop by the hour. The problem, though, was that I was attracting a lot of bigger birds- grackle and blue jays, and the cardinals and little fellows were getting pushed out.
I think I have finally found a winning solution. Out back, I have one feeder close to the ground filled with nothing but black sunflower seeds. That gets the attention of the big fellows. The other feeder is about 5 feet off the ground and has perches, and I filled it with a Nature's Way bird seed for songbirds. That gets all the chickadees and the cardinals, and they are all unmolested by the big birds on the ground.
Out front, near the rhododendron, I have a perch feeder that I filled with Scott's Bird Smart, and that seems to be doing a really good job attracting the birds I like. I'm getting lots of little fellows like these two: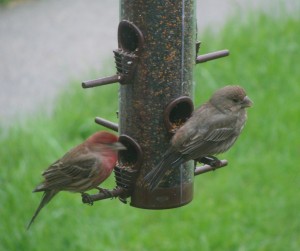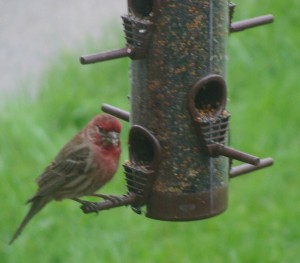 I never thought I would be interested in bird feeders and birds, but it really is a lot of fun. Plus, it just sounds good to hear chirping and wind chimes.