So we went to the new vet today, and Lily was a perfect lady and is in fine health. They all loved her, and she has put on a few pounds from last year.
Tunch, on the other hand, bled people again and it ultimately had to go down like this: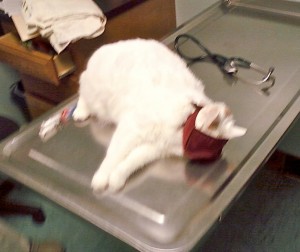 The picture is blurry because he could still strike at any moment and actually nailed me once with the blindfold on, using only the force to guide his claws. After the blindfold/muzzle, we had to hold him down with a towel to give him his shots. We then had to let him just be for 15 minutes before even trying to get him in the cage, because he was sitting there twitching his tail giving us the "Try it- I'll cut ya" look.
He apparently has a cracked tooth and some plaque build-up, so we get our teeth cleaned next month. Tunch has also lost a little over a pound from this time last year, so that is good news.
BTW- the title of this post is what the veterinary's assistant said when she first looked at Tunch. I laughed.