Finally had the garden plowed. Our tiller is broken, so a neighbor did it and it looks like the soil is pretty rich underneath, so I'm excited about that. Had a good dirt color, no sand and clay, and lots of worms. I hope to spend some time getting the big clumps of sod and any roots and rocks out tomorrow, and get everything planted on Friday. That will be an effort because there were two forsythia bushes there and the roots for those are unbelievable.
Since this is the first time this area has been used as a garden, my plan is to plant everything and then either mulch it with grass clippings to keep the weeds down or drop some landscape fabric before planting. I'll have to think about it. Eventually I want to frame this plot and build it up so that it is a raised plot. Decisions.
BTW- learned quite a bit about Ginny and Guesly while dogsitting the last 48 hours. For one, I learned that EVERYTHING is a crisis. The slightest sound and the dogs go racing outside to ward off any potential intruder. Second, they watch television. Not only do they bark at any animal on tv, but they get confused by things that look at animals. There is one commercial for Bush's baked beans with a dog wearing sunglasses and a mustache, and they look at it quizzically, because they are not sure what it is. I guess the disguise works.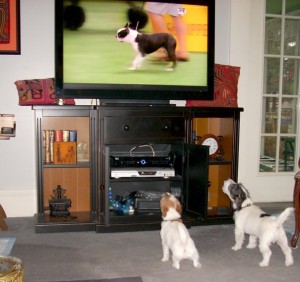 Finally, Ginny watched Wheel of Fortune. And I'm not kidding. I'm going to video tape it for you all some time. As soon as she hears the "beep beep beep beep" as the words is presented, she runs into the room and sits down in front of the tv. Her head then turns from side to side, and if someone calls out a letter that is not there and the buzzer goes off, she barks like a lunatic. I'm not making this up.
The good news is that Jack Russell terriers are only this energetic for the first ten years or so.