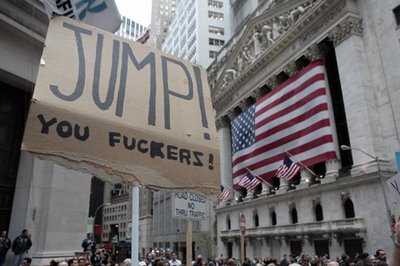 Oh, hey. More bankster criminality:
A telephone call between a financial adviser in Beverly Hills and a trader in New York was all it took to fleece taxpayers on a water-and-sewer financing deal in West Virginia. The secret conversation was part of a conspiracy stretching across the U.S. by Wall Street banks in the $2.8 trillion municipal bond market.

The call came less than two hours before bids were due for contracts to manage $90 million raised with the sale of West Virginia bonds. On one end of the line was Steven Goldberg, a trader with Financial Security Assurance Holdings Ltd. On the other was Zevi Wolmark, of advisory firm CDR Financial Products Inc. Goldberg arranged to pay a kickback to CDR to land the deal, according to government records filed in connection with a U.S. Justice Department indictment of CDR and Wolmark.

West Virginia was just one stop in a nationwide conspiracy in which financial advisers to municipalities colluded with Bank of America Corp., Citigroup Inc., JPMorgan Chase & Co., Lehman Brothers Holdings Inc., Wachovia Corp. and 11 other banks.

They rigged bids on auctions for so-called guaranteed investment contracts, known as GICs, according to a Justice Department list that was filed in U.S. District Court in Manhattan on March 24 and then put under seal. Those contracts hold tens of billions of taxpayer money.
And yet our dysfunctional Senate still can not pass meaningful financial regulation. At least the Bloomberg piece says they are ready to name names and there will be prison terms.
I eagerly await the Reason magazine treatise on how this is the fault of too much regulation.