I have always been deeply suspicious of all think tanks, mostly because I think people underestimate how easy it is to corrupt intellectual inquiry. Doing "research" from an explicit ideological viewpoint will result in bullshit, whether it's Christianist intelligent design or Stalinist Lysenkoism. At the Heartland Institute — a hot bed of global warming denialism — here is the sort of "research" they do on the environment: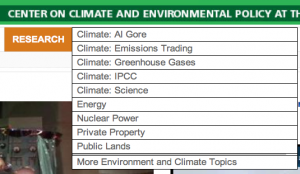 That's right, the very first topic is Al Gore.
How on earth can giving money for this kind of garbage be tax deductible?
Over at ThinkTanked, there is an interesting interview with Brian Katulis of Center For American Progress, who describes what he sees as the good and the bad of think tanks. It would have been interesting to see him answer the question: Wouldn't we all be better off if there were no think tanks? And could we may cause their extinction with simple changes to tax law?