Apparently, Obama is still not showing enough emotion for Charles Blow: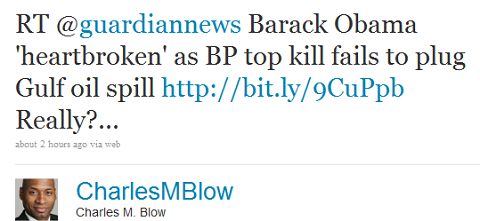 In some cultures, there need to be ritual displays of over the top emotion for some events- profuse groveling including getting down on your hands and knees when making an apology, wailing and beating of the chest and throwing yourself on the coffin at a funeral, and so on. Apparently, this is what we expect out of our political leaders these days.
In order to demonstrate for Blow and the rest of our press that Obama is really quite upset, I'm suggesting that he hit the beach at the oil spill, dressed only in a loin cloth and cilice and discipline, where he can then self-flagellate repeatedly on the back until bloodied, at which time he can stage a self-crucifixion with his blood dripping onto the beach symbolizing the oil spill. That ought to show he cares.