Because it was crappy out and I couldn't work outside, I spent the morning restoring some chairs, a table, and a cedar chest. They didn't need to be sanded and re-finished, just spruced up a bit, so I used this Howard Restor-a-Finish
stuff that my dad told me to use.
I have no idea what the active ingredient in this stuff is, but I suspect Satan. Nothing in life is this easy, especially when it comes to old wood furniture. You just rub it in with a sponge, wipe it up with a towel, and your pieces look like new. The stuff is amazing.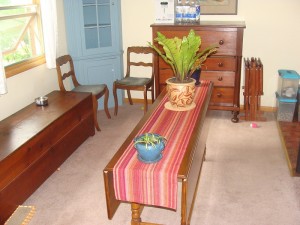 Unfortunately, the chairs need new fabric (just spent too much time in the basement and in closets), but I'm not going to deal with that until I figure out what color to pain the corner cabinet and the color of the drapes. But the wood looks amazing now.