Hot off the presses: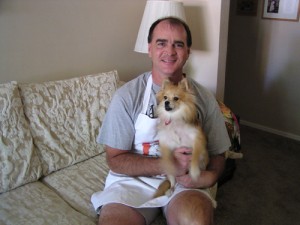 Commenter paradox sends along the following pet adoption story:
Attached is a picture of me in my kitchen and the very popular Tunch apron, all who see it approve.

The dog is a rescue Pomeranian my sister found some place on the internet, she's a serious poodle person and drove to Southern California (490 miles) to get this dog. There were and are three cats in the house already (one a rescue) and I was not looking forward to the uproar that of course ensued when Jasmine arrived. Took 60 fucking days for things to settle down.

She doesn't like men and is devoted to the women in the house, won't even go on a walk with me when I offer the leash. I love her and spoil her, of course–just as I knew I would–and she has slowly come around, Jasmine loves her morning scratch and looks to me for food. She is a ferocious guard dog and does not socialize well with other dogs, she's still pretty scared and nervous, prolly always will be.

She has been a good addition to all of our lives, I can't say it's the best decision I ever made, right, I've made so few good ones somehow I don't want to set one even further apart, and I went along with the idea anyway.
Bonus picture of paradox rocking the Tunch bling: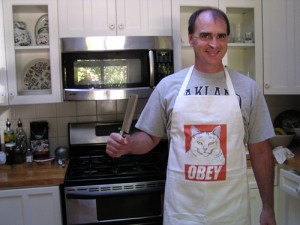 Don't be shy- you too can rock the Balloon Juice quality apparel by clicking over to the store, and every penny of profit goes to Charlie's Angels animal rescue!
Also, I really need to start posting more of the pet rescue stories. I have a bunch in the queue!