So apparently Wonkette and Gawker have decided Palin has a new pair of breasts. Personally, I couldn't care at all, and looking at memeorandum, it doesn't look like many of you do, either: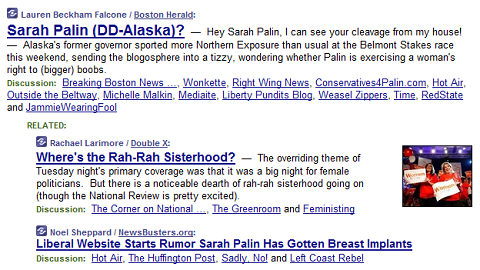 Dodd Harris isn't going to let that stand in the way of a good narrative, though:
On a day when Republican women were rocking primary elections across the nation, the Left was ogling Palin's chest.
Let's check that memeorandum link again to see who is interested in this story.
Right Wing News
Conservatives4Palin
Hot Air
Outside the Beltway
Michelle Malkin
Mediaite
Liberty Pundits
Weasel Zippers
Red State
Jammie Wearing Fool
Welcome to the left, guys! Talk about moving the Overton Window. You're right, Dodd. The "left" is all over this story. Oddly enough, these are mostly the same folks who spent last week giggling over the "20 hottest conservative female blogger stories" at Right Wing News. In fairness, Sadly No! was mocking Newsbusters, though.
At any rate, this will now enter the pantheon of Palin victimhood. In two years, everyone will be dutifully reporting how the left is all caught up in stories about Palin's boobs. Ahh, truthiness.