Dropped off Tunch at the vets (he is fine, surgery went well, I've called several times to check on him), went to Petco and Bed, Bath and Beyond with mom for a featherbed, some new pillows, a light comforter, a duvet cover, and some sheets, and on my way home I found this: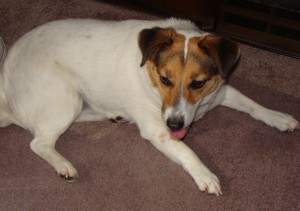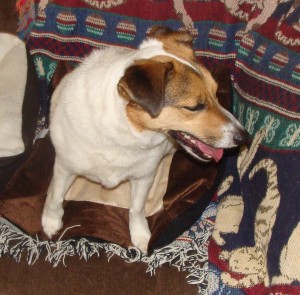 That is a Tunch-sized Jack Russell Terrier- she is every bit as pudgy as she is affectionate, that I found on a side road in the middle of the country on the way home. She was just sitting in the middle of the road, wet, tail between her legs, panting, and in obvious distress, so I stopped to check on her. I opened the door, went back to behind the car to get her, she ran around the other side of the car and jumped in the driver's side door that I had left open.
She had no collar but had marks from where she used to have one, so I don't know if she is someone's pet who got away, but that area is notorious for dumping and I went to every house for five miles in either direction and no one recognized her. I'm taking some pictures and posting them around this area.
She's already bonded to me, and Lily has her nose out of joint, but they have managed to figure out a way to share my lap when I sit down in the lazyboy. I really don't need another dog, so I am going to try to find her owners or place her. If anyone in the northern panhandle wants a very, very sweet and well-fed JRT young lady, email me.