If you're looking for a more detailed discussion of BP's oil collection plans, or an explanation of why flow may be increasing as more oil comes up the well (due to erosion), the Oil Drum is the only place I've found with that kind of detail.
They also do good analysis. For example, this report on renewable energy includes this graph of the world's energy production, by source, for the last 20 40 years (click to enlarge).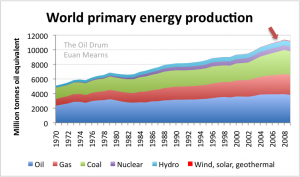 That red arrow is pointing to the almost invisible line showing the contribution that wind, solar and geothermal make to overall energy production.