Not sure what it is bout summers, but I lose my taste for politics. Too much other stuff going on.
This is JenJen bait- the Last American Cowboy on Animal Planet rocks, and the border collies are all amazing. The one that is able to ride on the back of the four-wheeler kills me. He must be going 30 miles an hour and that dog just hangs on and loves it.
*** Update ***
By request: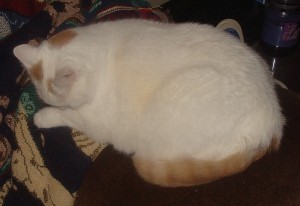 Also, some talk about Great Pyrenees in the thread. They are wonderful dogs, and my mom, dad, Ginny, and Guesly are all visiting the beach where they stay with their friend and this gentle giant:
He is a wonderful dog, and when there are other dogs around that look hostile or sketchy, he always steps in between the other dogs and Ginny and Guesly to shelter them.