Thanks for all the birthday wishes. It rained like hell last night, and it turns out that Rosie is afraid of thunder, so I was aggressively spooned and licked from about 3:30 on. I actually went back to bed for an hour this morning as a treat- what the hell, it is my birthday!
Going to try to get some work done, although it is pretty hard with the LAZERS boring into my soul from underneath the desk: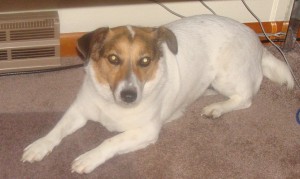 BTW- I'm so very proud of Lily. She has just been a perfect angel with Rosie, and I feel like I did a really good job making her a happy healthy dog. She has accepted the new addition with open arms, they share food and the couch and the bed and my lap, they ride well, they play well, and she has just been such a good doggie. Tunch has been good too, but let's face it- for Tunch, Rosie is just another underling to ignore as he struts through his fiefdom.