I have deemed you worthy: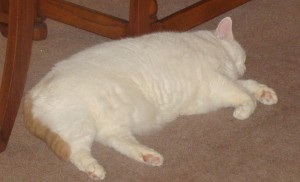 I think that sums up the general mood around here. We've had several beautiful days in a row- mid 70's, sunny, no humidity, beautiful breezes. I'm loving it, and I love being able to have all the windows open with the ceiling fans on.
Had a really good dinner- I bought some wild caught salmon filets and dad turned them into this delicious salad he makes with rice, asparagus, peas, tomatoes. Also had some more tomatoes with basil and mozz., and am now having a glass of Aconga, a really cheap Malbec/Sauvignon Blanc I found at Kroger for 3.99 a bottle, which is a decent price for a servicable table wine. I think it will be a busy night of sitting on the porch and then on the lazyboy with the girls.
BTW- for those dealing with the IE issues and the site, I've scheduled another rebuild maintenance for the end of August.