That was a good time- we bbq'd for a while, then mojitos were mentioned, so we went back here because I have tons of mint growing, a couple cases of pellegrino, and I always have a dozen limes (I use them in everything- I squeeze a little lime in every glass of water, I love them so). Limes are on my list of essential shit with tomatoes, olive oil, coffee, and toilet paper. Everyone raided liquor cabinets for rum, and mojitos were made.
Lily and Rosie were perfect angels, and we had a sweet Boston Terrier and a Shepherd mix, and they all got along great.
Having a little dinner party tomorrow, thinking about chicken cordon bleu, couscous with sun dried tomato and basil, corn on the cob, and some fresh sliced tomatoes. What wine would you all suggest? And we're all collaborating on the food, so one of my responsibilities is the bread- what kind of bread would you think would be best?
Love the 4th of July weekend. Listening to this atm:
*** Update ***
There was a request for a picture of the angels. Rosie is following me around still, but the angel of angels is sacked out: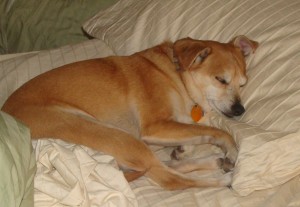 Every single person who has met Lily has tried to take her home. I caught my friend Mallory sneaking out with her tucked in her shirt. I just LURV my little mutt.