Great picnic at the parent's house- I invited a bunch of people, so did mom and dad, dad wrote the menu, I did the shopping, and dad made quite the spread (and that is with half the meal inside, including the cucumber and zucchini salads, the roasted corn salad, and the desserts):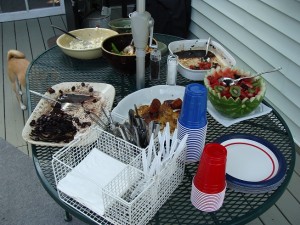 Crab potato salad was my favorite, although the pork loin was pretty amazing (it was seasoned with coffee, anise, and chili powder). Sadly, there was a murder of a puppy wire-haired pointing Griffon. He was running around like a crazy person, then he was found dead in the pachysandra: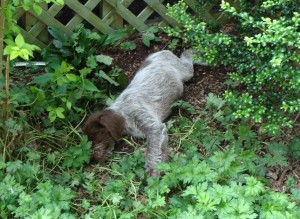 Fortunately, we were able to revive him, and after he stuck his big nose in several unguarded wine glasses, was up to full speed again: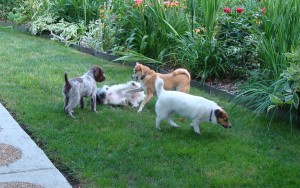 Everything was fun until I tried to walk Lily and Rosie home without leashes and Rosie ran off, causing my mom to yell at me for being a shitty dog owner. I had no defense.
But still, Happy 4th!
*** Update ***
Balloon Juice spies are everywhere: attached are fireworks from the inner harbor of Baltimore, sexed up by some pregnant feet in the bottom corner: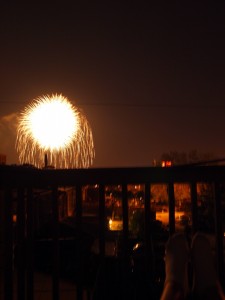 Also, this picture is so win.