For all of you who told me my broccoli would just go to hell, this just came from the garden: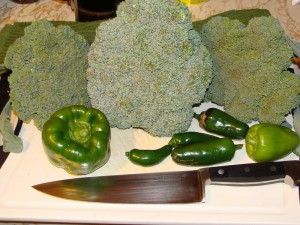 Just so you know, that is an 8″ chef knife for comparison. Dad and I will be using one head tonight with the peppers for some stir fry. Yum!
*** Update ***
No stir fry- had an orzo salad with tomatoes, cukes, basil, and pepper, steamed broccoli with a little salt, pepper, and tarragon, and grilled sea scallops. The vast majority from our collective gardens.