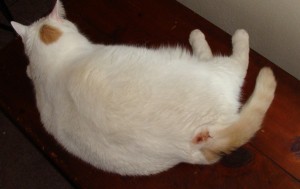 Picked up the spawn of Satan, and the doctor cleaned his wound and gave him a shot of antibiotics, and my only instructions were to keep him inside and let him recover. How that is different from the Tunch agenda of eating, shitting, and sleeping from every other day is beyond me.
As I was there, I looked over the counter at his charts, and even upside down I could make out Tunch * CAUTION! *, which made me laugh. I asked if he behaved this time, and before I could finish the question, she blurted out "No!" and several assistants started laughing. He's such a bastard at the vets they don't even try to sugarcoat it.
One parting thought- considering a wild night for me is a couple of glasses of wine at a friends and falling asleep by 11ish, it occurred to me that a night out on the town chasing tail is now far more expensive when my cat does it.
Guess I need to pick up this: The First Aid Companion for Dogs & Cats
.