A bunch of things highlighted to write about, but this is the general mood in the house right now: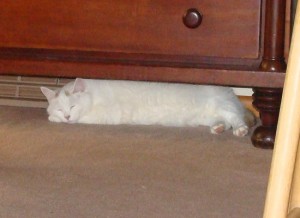 I'm having a late lunch of fried green tomatoes and scrambled eggs and then settling in for the game.
BTW- I'm rooting for Spain. I think they have a very pretty playstyle that is fun to watch. The other reason I am rooting for them is because I think that von Bommel for the Dutch is just a goon with the mentality of a hooligan. Cheap SOB who just runs around fouling everyone and inexplicably gets away with it. The rugby pitch is over there, jackass.