The biggest thing I learned from the run-up to the Iraq war is that when one side presents arguments that are deceitful and nonsensical, it doesn't just mean that those arguments are bunk, it means that that side probably has no *good* arguments for their position. To put it in Rumsfeldese, absence of evidence is, in this case, evidence of absence.
I think this lesson applies to today's neo-Hooversits. Behold the most idiotic graph I have ever seen, from Arthur Laffer's WSJ piece arguing against unemployment benefits (via Kevin Drum):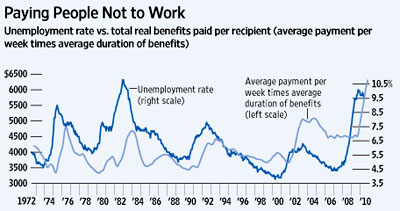 That's right — as the number of unemployed people goes up, the total payments to unemployed people goes up! Imagine that! Laffer actually argues that this shows that unemployment benefits encourage people not to work.
And here's Alan Simpson engaging in some creative accounting to argue in favor of gutting Social Security, Medicaid, and Medicare:
The commission leaders said that, at present, federal revenue is fully consumed by three programs: Social Security, Medicare and Medicaid. "The rest of the federal government, including fighting two wars, homeland security, education, art, culture, you name it, veterans — the whole rest of the discretionary budget is being financed by China and other countries," Simpson said.
Reader DV explains the deception here:
But the bolded statement (the Medicaid/Medicare/SS) consume the entire federal budget is, plainly, untrue. I know this for other reasons but you can follow this link) from within the same fucking article and see that those three programs combined to cost 1.5T and actually revenue was/is 2.6T (these are projected 11 numbers but same difference)'. That statement by Simpson is a plain, unadulterated lie. How does Balz report on the budget without any idea of its details and how does he not fact check Simpson's incredible claim?

FWIW, I think Simpson deducted the payroll taxes to get the numbers close except, of course payroll taxes are largely dedicated to SS and Medicare.
I recognize that there are legitimate discussions to be had about entitlement programs. But I have to think that if there were good reasons they have to be slashed, the neo-Hooverists wouldn't have to resort to lies and deception to make their point.