Chuckie T. is losing sleep over the private emails of liberals:
"I am sure Ezra had good intentions when he created it, but I am offended the right is using this as a sledgehammer against those of us who don't practice activist journalism.

"Journolist was pretty offensive. Those of us who are mainstream journalists got mixed in with journalists with an agenda. Those folks who thought they were improving journalism are destroying the credibility of journalism.

"This has kept me up nights. I try to be fair. It's very depressing."
Oh, for the love of everything holy. Chuck Todd is upset about what people say in unguarded moments on email. Personally, I'm more worked up about performances like this from our "mainstream journalists":
Scahill, who has written a popular book about Blackwater, had scathing comments about the organization, calling it "Erik Prince's Christian supremacist fighting force to eliminate Muslims and destroy Islam globally, and then they bill taxpayers again for this killing that they're doing and they're not held to the same standard as soldiers."

"There are Iraqi and Afghan people that are forced to face down against them, when, I'm sorry, the U.S. Congress does nothing to stop it," he continued, "and journalists have done nothing to hold the White House accountable now, Chuck, or under Bush. This has not been an issue and yet it constitutes more than half of the fighting force in Afghanistan."

Scahill singled out Todd, a fellow panelist on HBO's "Real Time With Bill Maher", for not taking the issue more seriously. "Chuck, you called it political cat-nip to talk about the CIA and Cheney's role in this, because it distracts from the important issues," he said. "This is a central issue and you called it cable cat-nip."
Chuck's response:
Right as we walked off stage, he said to me "that was a cheap shot." I said "what are you talking about?" and he said "you know it." I then said that I monitor msm coverage very closely and asked him what was not true that I said on the show. He then replied: "that's not the point. You sullied my reputation on TV."
You know what. Here's your news org doing what it does best: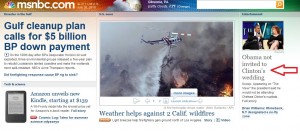 Oh noes! People speaking on a private email list had opinions while my news organization has devolved to stirring up food fights about a wedding. Talk about burning Rome and then fiddling.
*** Update ***
Todd feels he was misquoted or misunderstood:
The diehards who are pointing to Journolist as proof of a Vast Left Wing Media Conspiracy were very excited this morning by a Politico article quoting Chuck Todd criticizing the list in fairly harsh terms. Todd ripped J-List as "offensive" and suggested its legacy is "destroying the credibility of journalism."

But I spoke today with Todd, and he told me that the Politico article didn't represent his full thoughts on the matter. Indeed, it's hard to see how anyone on the right could be cheered by what Todd actually thinks.

In particular, Todd clarified that the right's campaign to use Journolist to tar the entire mainstream media is more "disingenuous" than anything J-List did.

Todd stressed to me that he wasn't condoning what J-Listers appeared to do at times, for instance, when some J-Listers suggested message coordination. But he clarified that his primary concern is that the right is successfully using this to carry out its larger program of tarring the mainstream press as liberal.

"I understand what the purpose of the list was," Todd told me. "A minority of folks created a perception problem for the list. And there's clearly a campaign by some conservatives to use this."
So why isn't he calling out the Politico? Because those two interviews are completely at odds with each other.