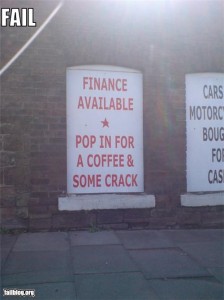 Tim Geithner on the op-ed page the NYT:
THE devastation wrought by the great recession is still all too real for millions of Americans who lost their jobs, businesses and homes. The scars of the crisis are fresh, and every new economic report brings another wave of anxiety. That uncertainty is understandable, but a review of recent data on the American economy shows that we are on a path back to growth.
The front page of the NYT:
Consumer spending and personal incomes were stagnant in June, according to government statistics released on Tuesday, the latest indication that the economy will continue to struggle in the second half of the year.

The Department of Commerce figures showed that consumers were continuing to try and save money while also paring down their debts. They were the latest figures in a picture of a weak economic recovery plagued by unemployment, a sickly housing market and uncertain consumer confidence.

Personal income was flat in June, compared with a slight 0.3 percent rise in May, the Commerce Department figures showed on Tuesday. Disposable personal income, or income after taxes and expenditures were also flat, compared with slight increases in May.
Don't worry. Republicans and Blue Dogs will make sure there is no relief any time soon. At least not before November.