I've stayed away from the topic of judicial confirmation because I didn't know if Republicans were truly being obstructionist about this from a historical perspective. Well, they are: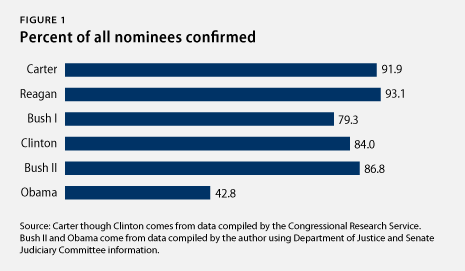 It is part of a trend, but the jump from Bush to Obama is quite striking, given that Democrats have a large majority under Obama, whereas Republicans had no majority during the first year of Bush:
Similarly, the Alliance for Justice found that in Obama's first year in office, the Senate confirmed a mere 23 percent of his judicial nominees. By contrast, presidents Carter and Reagan had 91 percent of their nominees confirmed in their first year. That number dropped to 65 percent for George H.W. Bush, 57 percent for Bill Clinton, and 44 percent for George W. Bush.
It's going to be interesting to see how this issue gets resolved. There's no penalty to be paid, politically, for failing to confirm judges. So expect more of this.