This is too funny- the nutters are all worked up about Sears allegedly selling pr0n:

I felt sort of cheated, because I was just on the Sears website the other day looking at ovens and I didn't see any porn. So I clicked the AFA link, which took me to this alert:
ears is content to sell pornography. And, if you are offended, they don't seem to care!

We tried. In fact, we tried more than a half-dozen times to reach out to Sears quietly and professionally. Sears' public relations department has refused to return our calls and emails.

Sears is currently offering giant posters of total nud**y on its website. Sears knows they are selling smut. Technology allows Sears to remove and stop selling these posters within minutes, so why won't they?

I hope you will take my word for it, but if you must see the proof, click here. Warning: the posters are extremely graphic and offensive, although they have been edited by us.
For christ sakes, AFA, where is the damned porn? I need proof. So I clicked the link. And it took me to this:

At this point, I'm on the edge of my seat. The AFA has me completely seduced, and I'm ready to have my doors blown off by some really hardcore stuff. So once again, I click the link for proof:

Are you shitting m? How many links do I have to click? My second warning? I've been a naughty boy, AFA. Gimme the Pr0n: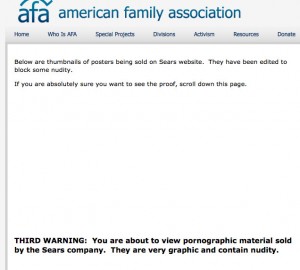 At this point I'm starting to think they are just teasing me… but then I scrolled down and found the goods: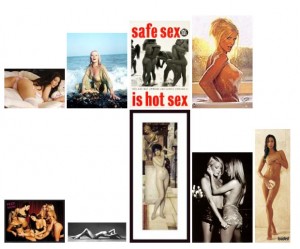 That's it, AFA?
Wingnuts…