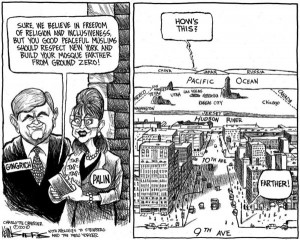 Way to go, Republicans and the ADL:
While a high-profile battle rages over a mosque near ground zero in Manhattan, heated confrontations have also broken out in communities across the country where mosques are proposed for far less hallowed locations.

In Murfreesboro, Tenn., Republican candidates have denounced plans for a large Muslim center proposed near a subdivision, and hundreds of protesters have turned out for a march and a county meeting.

In late June, in Temecula, Calif., members of a local Tea Party group took dogs and picket signs to Friday prayers at a mosque that is seeking to build a new worship center on a vacant lot nearby.

In Sheboygan, Wis., a few Christian ministers led a noisy fight against a Muslim group that sought permission to open a mosque in a former health food store bought by a Muslim doctor.

At one time, neighbors who did not want mosques in their backyards said their concerns were over traffic, parking and noise — the same reasons they might object to a church or a synagogue. But now the gloves are off.

In all of the recent conflicts, opponents have said their problem is Islam itself. They quote passages from the Koran and argue that even the most Americanized Muslim secretly wants to replace the Constitution with Islamic Shariah law.
Republicans, teabaggers, Palinite mouthbreathers and the talibangelicals unite to get their hate on. The best part about this is that all of these folks just love to quote the Constitution, as they work overtime to deny their fellow citizens the protections afforded to all Americans:
Recently, a small group of activists became alarmed about the mosque. Diana Serafin, a grandmother who lost her job in tech support this year, said she reached out to others she knew from attending Tea Party events and anti-immigration rallies. She said they read books by critics of Islam, including former Muslims like Walid Shoebat, Wafa Sultan and Manoucher Bakh. She also attended a meeting of the local chapter of ACT! for America, a Florida-based group that says its purpose is to defend Western civilization against Islam.

"As a mother and a grandmother, I worry," Ms. Serafin said. "I learned that in 20 years with the rate of the birth population, we will be overtaken by Islam, and their goal is to get people in Congress and the Supreme Court to see that Shariah is implemented. My children and grandchildren will have to live under that."

"I do believe everybody has a right to freedom of religion," she said. "But Islam is not about a religion. It's a political government, and it's 100 percent against our Constitution."
Sigh.
The ADL is nowhere to be found, which, considering their recent shameful stance in the NYC mosque, is probably a good thing. If Foxman were to speak up, it would be to help the teabaggers make protest signs.