[updated below]
Paul Krugman, to put it mildly, does not show his work in his latest column. The picture he paints is a grim one, to be sure, even if it is only half the picture. It is also wildly misleading.
Krugman writes:
The lights are going out all over America — literally. Colorado Springs has made headlines with its desperate attempt to save money by turning off a third of its streetlights, but similar things are either happening or being contemplated across the nation, from Philadelphia to Fresno.

Meanwhile, a country that once amazed the world with its visionary investments in transportation, from the Erie Canal to the Interstate Highway System, is now in the process of unpaving itself: in a number of states, local governments are breaking up roads they can no longer afford to maintain, and returning them to gravel.
A few points and then back to the column.
Krugman invokes a number of instances of government services being slashed around the nation and the worrying effects of these cuts. Let's take the first example, Colorado Springs, whose local government has turned off a third of its streetlights in order to trim the proverbial fat from its tightened budget. This is a pretty bizarre way to save money, no doubt about it. Government exists to provide basic services like streetlights and certainly when government walks back on even this most mundane of missions there's a problem. Of course, Krugman does little to offer a remedy for this or any of the other problems he lists beyond raising taxes. I find this about as compelling as a conservative Op-Ed which focuses solely on cutting taxes.
Terry Tamminen also discusses Colorado Springs, but compares it to another American city, Lexington, Massachusetts. which has decided to save money another way: by replacing old inefficient lights with new energy efficient ones:
The brightest bulbs, literally and figuratively, are in Lexington where town Selectmen approved a plan to replace inefficient streetlights with newer energy and carbon saving models. The move will cut electricity costs from over $286,000 per year to under $70,000—a dramatic 75-percent reduction.

The cost of the retrofits will be repaid by savings in under four years, after which the town pockets those substantial benefits. Energy-efficient lights last about six times longer than traditional incandescent bulbs, so the town will also cut its labor cots for streetlight maintenance by more than 80%.
It's also good for the environment. See how much more compelling that is than simply raising taxes? It cuts spending, cuts energy usage, saves money for the local government and residents, and keeps the bulbs lit. It also puts people to work in the short term which is stimulative, but saves labor costs in the long term.
Now let's move on to the paved roads conundrum. Krugman uses the pavement problem as a guiding analogy for the rest of his column, but doesn't go into much more detail. For instance, he doesn't mention that the most common type of asphalt used to pave roads is petroleum asphalt, and that petroleum asphalt prices have skyrocketed. In some states, the price of asphalt has actually doubled since 2008. This is central to the decision by some counties and localities deciding to let dilapidated roads go to gravel. Far from the failure in the social contract which Krugman makes it out to be, these are hard decisions being made by local governments in places where not only the government itself is strapped for cash, but people working outside of government face their own belt-tightening. Perhaps raising taxes to pay for expensive pavement on rural roads is simply not the best priority in the middle of a recession.
Nor am I arguing against government paying for roads. We need roads, obviously. The economy would go to gravel without them. Nevertheless, perhaps people concerned with the environment should consider the environmental implications of maintaining our current infrastructure. Petroleum asphalt doesn't just eat up oil for its own production, it facilitates the use of gas guzzling cars. Forward thinkers might take this opportunity to begin looking harder at alternative transportation options, though admittedly the rural areas in question will be a ways down on the list when it comes to passenger rail. Again, this isn't quite as simple as just raising taxes. Oil, I imagine, isn't going to get cheaper any time soon. Priorities have to be made.
Okay, back to Krugman:
And a nation that once prized education — that was among the first to provide basic schooling to all its children — is now cutting back. Teachers are being laid off; programs are being canceled; in Hawaii, the school year itself is being drastically shortened. And all signs point to even more cuts ahead.
Well it's true that teachers have been laid off, along with numerous other workers inside and out of government. But teachers have also been siphoned off by charter schools. In my home town we had to close a few schools this year which was obviously not something anyone wanted to see, but the fact was the student population had simply dropped way off as more and more charter schools opened up. This could easily spin off into a school-choice debate, I realize, but the point I'm making is not whether or not charters are good or bad – the point is that a lot of teachers moved from public schools and into public charter schools because that's where the students went. This is true in many, many cities across the country.
Besides that, the government reports that employment prospects for teachers have overall remained steady, and that employment of teachers in elementary and secondary education "is expected to grow by 13 percent between 2008 and 2018, which is about as fast as the average for all occupations." There is little to suggest in these projections that somehow Americans are on the verge of nixing the educational social contract. Nor have I found any statistics which would suggest teacher employment will actually be lower in 2011 than it was prior to the housing bubble.
Krugman again:
We're told that we have no choice, that basic government functions — essential services that have been provided for generations — are no longer affordable. And it's true that state and local governments, hit hard by the recession, are cash-strapped. But they wouldn't be quite as cash-strapped if their politicians were willing to consider at least some tax increases.

And the federal government, which can sell inflation-protected long-term bonds at an interest rate of only 1.04 percent, isn't cash-strapped at all. It could and should be offering aid to local governments, to protect the future of our infrastructure and our children.
Once again the only solution Krugman provides to this mess is a tax hike. While this may be part of the solution, the examples above show that it can't be the only solution. Yet it is the only solution Krugman offers. Saving a teacher's job, he suggests, aids unemployment numbers. But what if the kids are over at the charter school? Does saving that teacher's job really aid the unemployment numbers then? Emerging nations are upgrading their roads, Krugman writes, but he never once discusses the rising cost of asphalt or the environmental costs of paved roads or old light bulbs. Instead he simplifies:
How did we get to this point? It's the logical consequence of three decades of antigovernment rhetoric, rhetoric that has convinced many voters that a dollar collected in taxes is always a dollar wasted, that the public sector can't do anything right.

The antigovernment campaign has always been phrased in terms of opposition to waste and fraud — to checks sent to welfare queens driving Cadillacs, to vast armies of bureaucrats uselessly pushing paper around. But those were myths, of course; there was never remotely as much waste and fraud as the right claimed. And now that the campaign has reached fruition, we're seeing what was actually in the firing line: services that everyone except the very rich need, services that government must provide or nobody will, like lighted streets, drivable roads and decent schooling for the public as a whole.

So the end result of the long campaign against government is that we've taken a disastrously wrong turn. America is now on the unlit, unpaved road to nowhere.
Is any of this even remotely true? And even if there is some truth to it, is it the whole truth or just one spin on the bigger picture?
Krugman leaves off the whole bit about a recession, about falling revenues due to things like falling home prices and the subsequent drop in revenues which were for several years based on vastly inflated real estate numbers. He sets up and knocks down one myth – the myth of the welfare queen and the dystopian bureaucracy – and replaces it with another: the myth that the only reason we are where we are today is because we're spending less on public services like education because we refuse to raise taxes. In fact, education spending has increased dramatically at all levels of government. Between 1991-1992 and 2004-2005 education spending increased by 105%. Nor is there evidence that this trend shows any sign of reversing. Perhaps the reason Krugman can get away with this rhetoric is that the public overwhelmingly thinks the system is failing – while at the same time most of us consider our own children's school a success: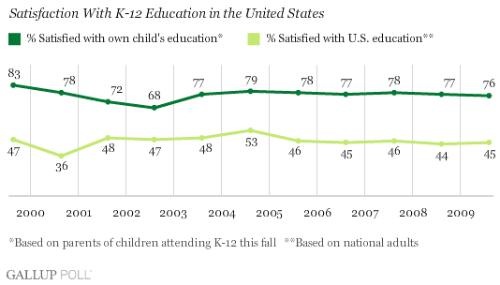 Public spending cuts are never pleasant. Someone is always hurt in the process – just like when private sector layoffs occur, or when companies not designated as Too Big To Fail actually fail. This is why spending responsibly is important, and why social safety nets are one area where government spending really can alleviate the problems inherent with a market economy (and with reality, for that matter). But part of the reason why private markets work at all is because failure occurs. And while we don't want our government to fail, we do need to have mechanisms in place to ensure that it is effective and that people aren't kept on the payroll merely to keep them on the payroll, or to break windows just so they can be paid to fix them.
Furthermore, if the only answer to a problem is to raise taxes, we miss out on all the good ways we can save money and improve outcomes – like replacing old light bulbs with new energy efficient ones. Taxes are obviously a necessary part of all of this – and we're going to need to raise some and at the very least we'll probably need to let the Bush cuts expire. I'm equally unconvinced that paying the same rates Americans paid during the Clinton years will have deleterious effects on the economy. Whether raising taxes or cutting spending is the right policy move right now is another question entirely. But to suggest that we're headed toward a future of unpaved roads and empty public schools is little better than to engage in the sort of scare tactics Krugman has accused his political opponents of himself. Surely he can do better.
—
Updates and comment responses.
Sentient Puddle and Raoul both mention the upfront costs associated with capital investments such as new lighting infrastructure. One thing the light-bulb piece points out is that city officials have worked out deals with private suppliers to pay for these investments over time, so that the savings discovered in the new energy efficient bulbs can offset the costs. This makes it much easier to afford upfront and avoids the need to hike taxes. This isn't always going to be an option, but it's a great idea!
Bobby Thompson points out that investment in infrastructure is economically essential in the longterm and expensive in the short term. Very true. This may require tax hikes. Many localities around the nation are increasing property and sales taxes. I voted for these increases here. My point is not that we can do all of this without ever raising taxes. It is that there is a limit to what can be done by solely increasing revenue or solely cutting spending. Other solutions exist – like the light-bulb example.
Glenn – bonds = debt. It's cheap debt, for sure, but I think there's merit to not simply throwing money at a problem.
Dave – thanks, and I'm perfectly willing to concede that Colorado Springs is mismanaging their responsibilities. The hardcore anti-tax message is pretty useless and can be downright antithetical to properly managing government.
To those of you who have nothing better to write than to label my post as a screed or hackish, I guess your minds are made up. I'm glad for you.