[updated]
DougJ makes a good point but I think he misses mine: parental satisfaction is not a very good indicator of education quality. I think that's the take-away message from a survey which finds that most Americans approve of their own school but disapprove of the public school system at large. There's a disconnect there that's not at all different from this:
Parents are not professional educator and, moreover, the public is just bad at judging things like this. For example, poll after poll shows that Americans think that crime has gone up over the past few years, when it fact it has gone down.
People think crime is high everywhere except where they live – people think schools are failing all over the country except for their own school. Take this Gallup poll, for instance. Notice that people rate crime in the area where they live as mostly not at all serious (61%), but in the United States as a whole they perceive crime as Extremely/Very serious (42% vs. only 8% in the area where they live).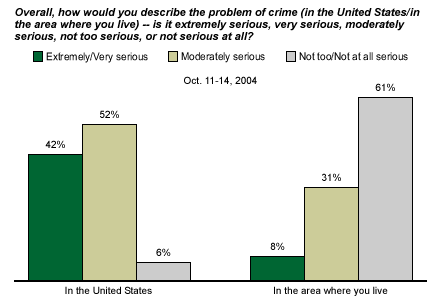 The public's perception of education looks remarkably similar: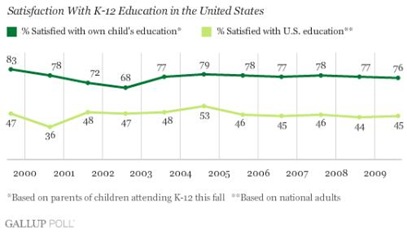 In both instances, people are generally pretty happy with their own schools, the crime rate in their own neighborhoods, but believe that across the country crime is rampant and schools are failing left and right. In reality, crime has gone down and it's gone down for years. The point I was trying to make is that maybe the general sentiment that education is going down the tube is about as accurate as the notion that crime is going up and up and up…
Crime may be down, but education is trickier to gauge.
You can look at dropout rates, for instance. Overall, a much smaller percentage of students dropped out of school in 2008 than in 1980 – 14.1% in 1980 compared to only 8% in 2008.
Or you could look at college enrollment numbers, which have increased significantly since 1980, from about 12 million to 19 million students, and from a student body 51% female to 57% in 2009. Then again, maybe that's not a fast enough increase for an economy increasingly reliant on high skilled workers.
Not everything is rosy with our schools of course, especially in poor urban areas. In some states there are massive shortfalls in education budgets – in others administrators* or teachers' unions have too much power. This article on New York's "rubber room" from The New Yorker is worth a read. Furthermore, college is becoming increasingly expensive with tuitions that either force students and their families into massive debt or crowd them out altogether.
Just to be clear, I'm a huge supporter of public schools and education generally. You'll get no "McArdlesque retort" from me. I come from a long line of teachers. I attended public school in several states (and Canada) and graduated from a public University using public grants and student loans. I think public education is one of the best ways we can spend tax dollars, so when I talk about waste in the system it's not some roundabout way to advocate for slashing school budgets. I want schools to be well funded and I want that money to be well spent.
DougJ pointed out that the US is now only 12th of the top 36 developed nations for college degree carrying 25 to 34 year olds. But how much of that is just the rest of the world catching up? If you look around the world or just around the United States, you'll see a pretty wide range of school outcomes.
I think reform is necessary, but I worry that too much federal influence and too many accountability projects will lead our system down the path of standardized tests, draining all the creativity and innovation from our classrooms. Reform is still best handled at the local level. Teacher autonomy is central to creative learning. Let's not sacrifice autonomy on the altar of accountability.
*(On the administrative front, I was talking with some retired teachers from Oregon about some small towns up there that had broken up larger school districts that encompassed several towns into multiple smaller districts and then paid six figure incomes to each school superintendent. That's money that could have been going directly to the classroom or to teachers' salaries. These were strong union Democrats. They said pretty explicitly that throwing money at the problem wasn't going to help unless waste was also confronted.)
Update.
There have been questions about the superintendent pay. I'm fine with superintendents making very good money since they have a very demanding job. But it seems silly to break up a school district composed of three or four very small towns and start paying three or four superintendents (plus their staff) six figure salaries when one administrator could do the job just fine. Money isn't in endless supply. Better to direct it to the classroom whenever possible rather than to unnecessary administration.
While CEO's certainly do make far too much money in this country, we're comparing apples to oranges when we talk about public and private sector pay. CEO's are not paid out of public coffers; superintendants are. Obviously this line can be blurred when companies receive government handouts, protections, and other subsidies, but that only means we should avoid crony capitalism. In other words, you can't justify paying for unnecessary public admins just because some CEO somewhere makes too much money.
When I say education is hard to gauge, I mean it. Many of the quibbles with the numbers I presented seem fair. They don't really change the underlying point so far as I can tell.
I agree that local funding of schools can be problematic and more equitable funding can help even things out; nor am I opposed to federal dollars going to schools. I simply worry that federal dollars will come with unreasonable strings attached, will lead to standardized testing regimes, etc. I think I'm right to worry about this. I don't want public schools to turn into some massive bureaucratic machine, and one of the great features of American schools has historically been their relative autonomy.
I'm not sure what Midnight Marauder's point is re: NCLB. That was a massive federal program and a failure by all accounts. Does this do anything other than confirm my uneasiness with federal involvement in local education? (I do favor federal grants, especially for things like special needs programs however).
Yes, local government can be a cesspool of corruption. But the federal government is too distant from the daily grind of our many public schools to be effective. Some balance is necessary. For instance, state or federal government should intervene in truly terrible schools or in particularly corrupt districts.
I'm sure there are better ways to implement federal help in education than NCLB but I'm not sure what those are. We'll see how Race to the Top goes.
I don't live in a community where people think the earth is 6000 years old but thanks for the gross generalization and stereotype. It's really great to keep such an open mind.
Re: the "you call yourself a conservative…you must be disingenuous" attack below: I actually don't really self-identify as anything but an independent. I write about conservatism because it's interesting and because I think there's a lot of wisdom to be gained from studying it and I think a reformed, modern conservatism might actually be a good balance for modern liberalism; I generally believe in free markets and competition and other classically liberal/contemporary conservative economics; but I haven't really self-identified as a conservative in a while and constantly wrestle with just how to properly self-identify. Lately I'm not so sure I care. I'm less sure that someone who does identify themselves as a conservative need fall into the conservative movement's ideological framework. That's just one definition of a very loose term.