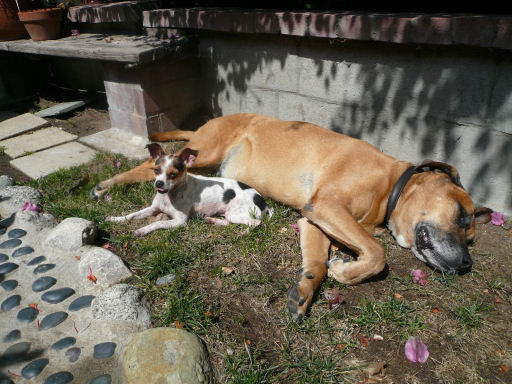 From commentor Jebediah:
We are adopting a little pup right now. We have Otto already (World's Greatest Dog, for real) and my wife had been thinking of a companion for him. Otto is ninety pounds, she was thinking a small dog, meaning about 20-30 pounds. We ended up with Juno, a chihauhau-something mix (if you ignore the chihauhau bug eyes, she resembles a mini JRT to my eyes) that weighs in at all of seven pounds. Super timid and peeing and pooping inappropriately, although we are starting to get that under control and her personality is starting to show as she comes out of her timidity a bit. I have always considered myself a big dog person, but I am really digging this little nutbag…
__
I am not particularly stoic, which might explain why I get teary every time I think of animals in shelters.
__
Juno really bonded with my wife first, and when she came through the door, Juno would turn into a whirling dervish of joy and excitement, spinning from one end of the couch to the other.
Congratulations to Juno for getting the home she deserves… and to Otto, Jebediah & his wife for making a friend for life!
***********
Pet photos and brags used to be a regular feature here, but I think John lost most of his backlogged "stash" due to a FYWP glitch. If you want to see your darling(s) highlighted here, email me pics — my address is near the top of the right-hand column.
***********
And a note from commentor Pasquinade:
International Homeless Animals' Day: Make a Difference
Saturday, August 21
__
Some suggestions…
__
Check out local animal groups' Facebook pages. Often they post about animals in dire need of rescue at the kill shelters, or lists of supplies needed.
__
Thrift stores are great for blankets, towels, etc., especially if they have 50% off days, like my local stores do. Additionally, I'm always on the look out for cat-related items to brighten the rather dismal environment of the local high kill shelter.
__
Post notices asking for volunteers at senior housing centers. It could result in more volunteers, and perhaps some adoptions.
__
Skilled at grant writing? Digital photography? Get shelter cats and dogs pictures on Petfinder, etc.
Anybody want to tell us more about "International Homeless Animals' Day"? Are there events scheduled for your community?