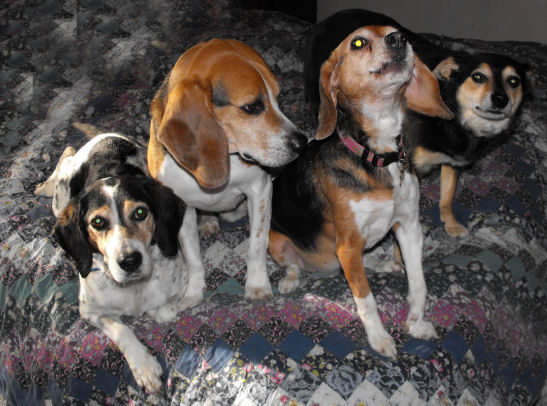 From commentor Tony S:
My wife and I were dog owners as kids. When we moved to our house here in Peekskill in 1999, the place came with a dog. The place was an estate sale, and we insisted the super-elder beagle, Gypsy, be part of the package…
__
Since then, we've tried to adopt older dogs whenever possible. We find them much easier to deal with than puppies, and quite grateful. We've had 11 dogs in 10 years. People ask us how we can deal with the short time we have with the senior dogs, but it's much more painful thinking of them trapped in some shelter somewhere, or put to death simply because they're not wanted.
__
Here's a pic of the current crowd. From left to right, they're:
__
Snarls Barkly, our most recent arrival, who is an estimated 9 years old and was left in front of a police precinct in the South Bronx at 4:00 am on the night of February 14th in a condition the ASPA described as "filthy," with a broken tail, infected ears and a large tumor on one leg. It was three weeks before he would get on our bed; he spent most his time until then lying on piles of leaves in our backyard. Now he spends 90% of his time cuddled between our pillows.
__
Field Marshal Montgomery Marshal Fields. Monty was in a family where the father died suddenly when his replacement heart valve failed. He went from having run of the house to being locked in a cage 14 hours a day, and cracked up in the process. He has papers of some kind, and is our only purebred. His favorite game is "I love you, don't touch me. OK, now you can pet me. But I'll scream."
__
Twinkle Toes. Twinkles was found tied to a lamp post on our city's main street. She'd been there so long her paws were bloody. By virtue of seniority, she is our home's alpha, and she knows it. She is also a differently abled puppy. She must have been hit by a car at some point. Her front paw is held together with a bolt, and her back leg is held together with a wire. Must have cost a bunch to fix her, and she wound up on the street.
__
Jessicur Lynch. You can guess the time we got Jessicur. Her breed was listed as a mountain cur. She's our guest terrier. She was sent to kill shelter in West Virginia for slaughtering chickens. Now she likes to leave dead mice as gifts for us on our bed. She's the youngest dog we've adopted, and one of the craziest. I have the scars to prove it.
__
When people are adopting dogs, they should really think of seniors. They've wound up abandoned through no fault of their own and deserve homes.
(Keep those photos & stories coming, folks — we need the respite! And why have I not received any cat pictures yet?)