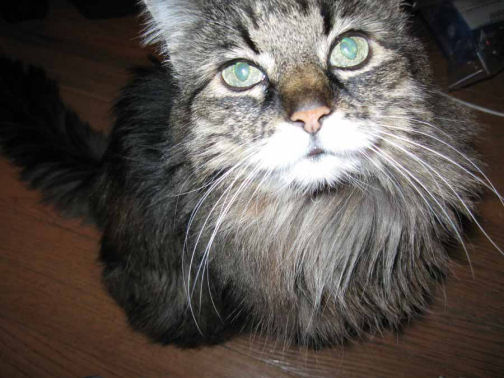 From commentor Mary G:
This is Sophie. I got her on Feb. 1, 1991, at the Pasadena, CA Humane Society. I had lost my first cat six months before and told myself I was just going in to see how the shelter looked after a major remodel. Yeah, right.
__
The volunteer opened cage after cage and handed me cat after cat. I could not pick one over the other – I wanted to take them all home.
__
She put Sophie (then called Misty) back into her cage and started to open the next one, but Sophie stuck her leg through the wire and tapped me on the shoulder very gently with her paw. That did it. She still taps me with a paw if she wants food or attention, but only on the left leg and arm, never the right.
__
She had no use for any other human being. She didn't want me to pet her if I was standing up or sitting down, but if I was lying on the sofa or the bed, and no one else was around, she would snuggle and purr and demand scritches. She sleeps on my hip at night.
__
She knew my car and when I got home from work, I'd see her head peeking out between the curtains, and as I came up on the front porch, she'd run to the door. But once I unlocked the door, before I could open it, she would run back behind the coffee table and look away like she couldn't care less if I was there or not.
__
A year or two ago, out of the blue she decided she was a lap cat after all, not with me, but my mother. The second mom sits down, Sophie climbs up. Who knows why, she's never even seen another cat in a lap.
__
Her kidneys have been bad since she was three years old, but I feed her the special food from the vet and they've held up so far, thank goodness.
__
***********
If you appreciate these rescue stories, you can sign up at The Animal Rescue Site for a daily email reminder to click through to their website. When you click, their advertisers donate a small sum to animal charities at no cost to you. You get a little feel-good rescue story with every email, and another one when you click, so it's a win-win-win!