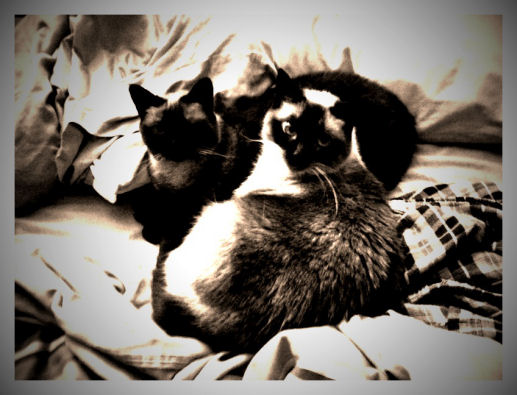 From commentor Chris S:
Tara and I have two special rescue kitties with their own distinct personalities and quirks. Here is Aisha, a Siamese (darker), and Amiya, a Balinese (lighter), snuggled up in their favorite spot in the house: our bed after we get out of it in the morning. They're moderately healthy cats, but both suffer from kitty viruses picked up from their SPCA shelter stay where Tara worked as an outreach coordinator. They're very well-behaved cats and they don't care much for human food or get on counters. I could leave a steak sitting on the counter and they don't care. However, Aisha can smell watermelon and strawberries before you can even take a bite and she loudly demands her tribute. Amiya is the princess and has effectively claimed me as her own. She sleeps next to my head or my feet at night, pouts and cries when I leave for work, and gets very pissy when I'm gone for a few days. To the point where she won't even acknowledge me for a day or so when I return.
__
We've recently adopted a young brittany spaniel mix from a rescue center and get him on August 23rd. We're very excited to open our home to another wayward animal that's just looking for some love.
**************
Speaking of weird dietary quirks, over the past 40 years I have known three cats, in three different states, who would kill — or at least bite your hand — for jelly-donut filling. All three were old-fashioned "Louis Wain" round-faced, plush-coated girls of great beauty and extremely random background. Always wondered if it was an actual genetic glitch or just my pattern-seeking instincts.
Best wishes (keep us posted) on your new soon-to-be-housemate, Chris!