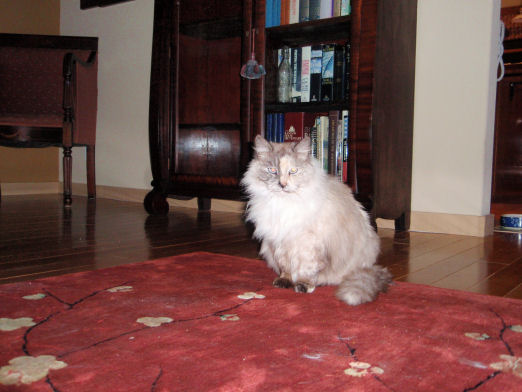 From commentor John Smallberries:
This is Fuzzy Cat, or Fuzzy Grumbles, depending on the mood she is in. She is one of four salvage cats we have – one was left on my wife's front porch in a box as an undersized kitten, one came from the humane society as a kitten, and one was adopted from the sons of a good friend of my wife after he died unexpectedly.
__
As for Fuzzy, we took her in when she was around 10 years old, nobody knows for sure. She had been abandoned by people on our street when they moved, and became rather feral. At first, she was feeding from the porch of a family with two cats who left dry food out, but when we started remodeling our house, we got her to come over and eat in the back yard while we were feeding a couple of strays that we had adopted. The other two were, unfortunately, run over but Fuzzy, who is very very smart, was way too careful.
__
As she slowly got to know and trust us, feeding went from "drop the bowl and get 25 feet away" to "put it down, I will come over and you will back off" to "you can pet me while I am eating but I will show displeasure" to the point where after we got the house closed in but before we moved back she would come in, eat inside, and deign to spend the night sleeping on our bed. Yes, for a period of about two months, we remodeled the house for a stray.
__
Now, she comes running up when one of us drives up to say hello, tail in the air and all rubby against the legs, has taken to begging for pieces of chicken, sleeps on my wife's lap in the front porch, and spends the night either on the rug in front of the stove or under the dresser in the bedroom. She still grumbles and growls, and only will allow a limited amount of petting, but has remembered how to purr. At meal times,, she becomes very excited, and there is usually a bit of agitation with a lot of paw waving between her any my siamese, the Humane Society cat who my wife has designated a kleptoparasite that tries to eat out of all the food bowls. When she is begging for a piece of chicken or turkey she comes in, sits by the refrigerator and gives you the look she has in the photo. She chases a laser beam like no other cat we have.
__
She has a territory that includes the our front porch, the neighbors rose bushes, and the front porch and landscaping of the lady across the street. Wanda says our two houses are the Bed and Breakfast for Fuzz – she sleeps on Wanda's porch (bed) and eats over at our place (breakfast). She has lived with us for about 5 years now and can be a real pill, but a real sweetheart too, and we love her just like the others.