This one's from Kevin Drum: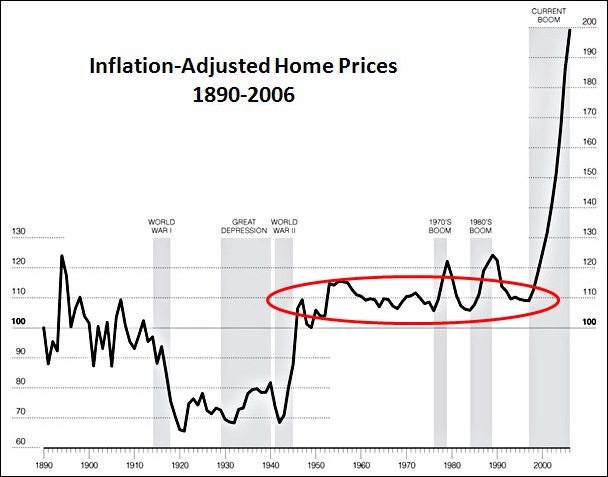 Irrational exuberance anyone?
Inspired by this New York Times piece which shows that new home-buyers think their homes will gain value at about 10% per year over the next decade, Kevin asks:
So here's the question: why do people think that home price appreciation is a law of nature, when it so clearly isn't?
He has a few theories which are all probably part of the problem: Americans can't do math; they can't adjust for inflation; the media and anecdotal evidence of home sellers flush with cash have skewed how we think about home ownership; some areas really have done very well even adjusted for inflation, etc. But I think the underlying issue here is that owning a home is just what people do in America. It's the American dream. If you don't own a home – well what the hell is wrong with you? Don't you love America? What about your children?
I don't own a home myself. Renting seems like a pretty decent option with the market the way it is, with very little savings – certainly not enough for a real down payment – and with more and more holes piercing this particular illusion I guess I just don't feel like gambling. Besides, I don't like to be tied down any more than I already am. A part of me wishes I could purchase a home, but I realize that a lot of that is purely gut feeling, subconscious obligation to a social norm; the second unsung stanza to the "first comes love, then comes marriage" rhyme.
What bugs me, as a renter, is all the effort that's gone into subsidizing home ownership – both prior to the crash in the form of tax breaks and zoning favoritism, and after in the form of one government program after another attempting to prop up housing prices – which in turn artificially bolsters high rents. I understand the impetus here – propping up the housing market makes for a softer landing across the rest of the economy. But I don't think it's wise or a good use of tax dollars. If anything it's a transfer of wealth from the poor and working class to the middle and upper class. Of course, as Kevin notes, the myths we've woven up around home ownership have likely "distorted the housing market every bit as much as all the government intervention in the world."
No easy answers to this one.