I sort of missed this controversy (Anne's post yesterday was all I really know on the matter), so there may be more comments I'm unaware of, but I gather the main comment that sent off the entire "Fire Simpson" bit was that social security was "a milk cow with 300 million tits." From that, I see a bunch of people claiming this was somehow sexist, and I just have to shake my head. Can anyone explain to me how this is any different from the absolutely absurd charge by the McCain/Palin team that when Obama said "putting lipstick on a pig" he was actually making sexist remarks? It's the same level of absurdity, and the landscape is riddled with op-ed cartoons and remarks about suckling at the government teat. Here's one: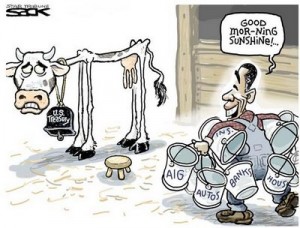 ZOMG SEXISM! I could post more, but what is the point. Sucking at the government teat is imagery so common and, at this point, blasé, that anyone claiming sexism is just being silly.
Simpson's crime is not sexism, it is his assault on the concept of social security. Social security recipients are not sucking on the government tit, as they paid into the account their entire lives. It was a contract- you pay in, when you are older and in need, we pay out. The real crime with social security is that millions have paid in, and then those receipts were used to fund tax cuts, wars, tax breaks to oil companies, and on and on and on.
That's why Simpson should be fired. Not because he is sexist, but because he doesn't even understand the problem with social security. Hell, that is why the entire commission should be disbanded.
*** Update ***
I should note, I'm responding to the dozen or so emails I've received demanding I get on board firing Simpson for his sexism. I have no idea how this has played out on blogs (as I noted at the top of the post), because I've been too swamped to read blogs this week.