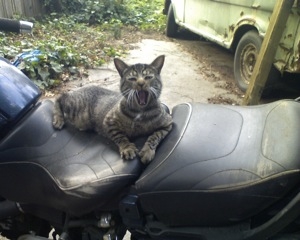 From commentor Bill D (wmd):
Here's a picture of RC (Rodent Control) Gizmo. He's a year older now, still likes to sleep on the seat of my motorcycle, but alas the economy will take it away as soon as I find a buyer for the bike.
***********
Let me state for the record that I'm glad Beck's "I Have A Scam" gathering was a giant snoozefest.
Also, that the burgers from the Blue Ox in Lynn are every bit as good as their reputation.
And finally, this gets my vote for headline of the week:
When John McCain Comes Riding on His Flying Unicorn to Save America,
David Broder Will Have a Bag of Carrots for the Unicorn