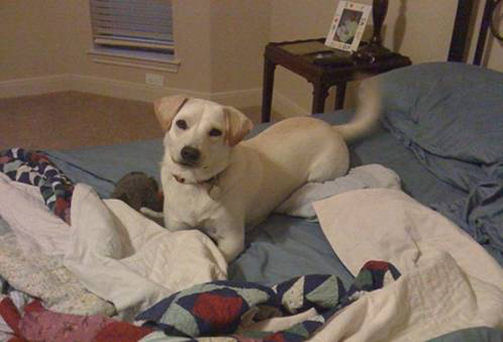 From commentor Felonious Wench:
This is Kira, our Lab/Beagle mix. I had made up the bed 2 minutes before she wrecked it. She's a cat-chaser, a plant-destroyer, a midnight-barker, and a general chaos machine. We adore her.
__
2 years ago, I decided it was time for a dog. I was home a lot by myself with our sons, and I wanted a dog to keep me company. I found her at our local no kill shelter; she was 9 months old, no longer a puppy, and she'd been there a couple of weeks. I had planned on getting a small dog, but there she was, 40 pounds of sweet dog, and still growing. Her notes about her said "She is one SMART dog. She was found in a backyard, playing with a group of kids." Guess she snuck in.
__
She immediately showed herself to be a big baby who loves any person who comes across her path. My dreams of a dog with a protective streak slowly faded into reality…the dog flops for belly rubs in the presence of any human.
__
So I thought.
__
One afternoon, our housekeeper heard Kira going absolutely ballistic in our back yard; she had a tone to her bark and a snarl she had never heard. She looked out the back window, and two guys were climbing over the fence. Kira was having none of that. She tore over there and backed them into a corner. They got so scared they immediately managed to climb our fence and get the hell out of there…
__
But not before one of them dropped his backpack.
__
My fears of Kira's inability to alert me to intruders were unfounded. Turns out the men had broken into the house behind us. She had scared one of them so badly he dropped his backpack, with his ID inside. Oops. The police confiscated it, and gave Kira a rub on the belly. She flopped for them as soon as we let them in the gate.
__
Yes, she's one smart dog.